Live Stream LCI Grad
Mandatory Student Grad Meeting
Timeline to Grad
Grad Information
Graduation Day: Saturday May 27th 2023 at Enmax
Convocation 9:30am
Grand March and Dance 6:30pm
Grad Fees: Fees have been posted to SchoolCash (Due April 21st, 2023)
Student Photos Needed: The student grad committee is collecting photos for a special presentation.  They are asking that all graduating students submit their favorite young photo of themselves (0-5 years) to: lci2023gradphotos@gmail.com
Parent Decorating Committee: If you are interested in planning and decorating the ENMAX please send an email to either robin.mackenzie@lethsd.ab.ca or katrina.vandermeer@lethsd.ab.ca
Grad Photo Booking
Grad Parent Meeting Information
Please click on the link below to view the information that was presented at the Grad Parent Meeting on January 16, 2022
Grad Hoodie Ordering!
If you or your student would like to order a Grad Hoodie please follow the link below
You can order at any time.  However, we are putting a suggested order deadline of February 10th so that production and shipping times get the hoodie to the student sooner rather then later.
IMPORTANT: When ordering please make sure that you enter the code LCI2022.  This will avoid deliver charges for you.  Hoodies will be delivered to the school office then distributed to students.
Grad Photo Sessions Open to Book
Please view the information for booking a Grad Photo session by accessing the link above
Photo session dates for LCI are:
November 21, 22, 23, 24, 25, 28, 29. 30
December 1, 2
My Pass
Students should be visiting "My Pass" to ensure they are ready for Grad.
My Pass allows students to:
View and print diploma exam result statements.
Order transcripts.
View progress towards a credential (diploma or certificate).
View student personal information.
View and print detailed academic reports (DAR).
Order additional copies of a credential.
Register for a diploma exam.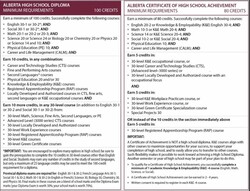 Most students go beyond the minimum diploma or certificate requirements listed below because they want to take advantage of the many choices available in high school or to meet post-secondary entrance requirements. If you are undecided about the path you might take after high school, you are like many students. You will discover your talents and interests while working toward your Diploma or Certificate of High School Achievement.