Graduation Information
My Pass
Students should be visiting "My Pass" to ensure they are ready for Grad.
My Pass allows students to:
View and print diploma exam result statements.
Order transcripts.
View progress towards a credential (diploma or certificate).
View student personal information.
View and print detailed academic reports (DAR).
Order additional copies of a credential.
Register for a diploma exam.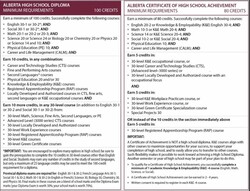 Most students go beyond the minimum diploma or certificate requirements listed below because they want to take advantage of the many choices available in high school or to meet post-secondary entrance requirements. If you are undecided about the path you might take after high school, you are like many students. You will discover your talents and interests while working toward your Diploma or Certificate of High School Achievement.
Grad Photos - Need to Book Appointments!
Grad 2021
Make Your Voice Heard!
Upcoming Grad decisions are happening.....Make your suggestions for:
Send submissions to Mrs. Mackenzie at robin.mackenzie@lethsd.ab.ca by October 30th!
Grad 2021 Design Challenge
Grad Design Challenge
Have a hand in designing this year's Grad wear logo!
Submit a Grad 2021 logo to Mrs. Mackenzie via email: robin.mackenzie@lethsd.ab.ca
by Friday October 30th!
Grade 12 students will have an opportunity to vote on the best design on Tuesday November 3, 2020
The Winning design will be used on all grad clothing!
Congratulations Class of 2020!