Graduation Information
FINAL 2021 GRADUATION INFORMATION
Please click on the link below to view the final information for the 2021 LCI Grad
Grad Update - Current Covid Restrictions - May 12, 2021
As a follow-up to last week's communication regarding the grad vote and LCI's plan for a grand march ceremony.  
This year's graduating class has selected:
OPTION 2 - Move the grand march date to Saturday, June 12th (same time, same format) in the hopes that the government restrictions will ease to allow for outdoor gatherings of 10 (or more) people.  If, the restrictions DO NOT change by Sunday, May 30th, the grand march will be cancelled.  In it's place a formal wear day will be held on Friday, June 4th at LCI, during school hours, to celebrate grade 12 students.
Early next week, you will receive more detailed information surrounding this year's graduation celebrations.  
LCI GRAND MARCH
We are pleased to announce that our booking system for LCI's Grand March will open on Monday May 3rd at 8:00am and close Sunday May 16th at 11:59pm.  Currently, bookings run from 1:00pm - 2:50pm.  Once earlier spots are filled, later spots will open.  Grads are encouraged to coordinate sign-up times with friends or those they'd like to march with.  There are eight spots available per timeslot.  On arrival, grads will receive their professional photo, in their formal wear, by LifeTouch.
Please click on the link below to reserve your time.
My Pass
Students should be visiting "My Pass" to ensure they are ready for Grad.
My Pass allows students to:
View and print diploma exam result statements.
Order transcripts.
View progress towards a credential (diploma or certificate).
View student personal information.
View and print detailed academic reports (DAR).
Order additional copies of a credential.
Register for a diploma exam.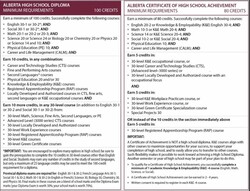 Most students go beyond the minimum diploma or certificate requirements listed below because they want to take advantage of the many choices available in high school or to meet post-secondary entrance requirements. If you are undecided about the path you might take after high school, you are like many students. You will discover your talents and interests while working toward your Diploma or Certificate of High School Achievement.