Graduation Information
Grad will be live streamed!
Graduation convocation and the grand march will be live streamed and the links are below
Grad Checklist
Grads and Grad Families...
Please refer to this checklist for important dates/times and steps to prepare for the very special milestone of High School Graduation!
Graduation Day Info
Monday, June 279 AM – Decorating at the Enmax (parent/ grad committee) 1 pm – Cap and gown pick up/ Grad class instructions @ LCI gym for Grads – pizza lunchTuesday, June 28  (GRAD DAY!!!) 8:30 AM - Grad picture in a section of seats at the Enmax with students in caps and gowns 9:30 AM- 11:30 AM - Convocation (students in cap and gown) *unlimited tickets 6:30 PM- 8 PM - Grand March (students in formal wear - dresses/gowns/suits/etc.) *unlimited tickets 8-10 PM - Dance and taco bar *limited tickets
*Students can invite/ bring as many people as they wish to their Convocation and Grand March. Seating is first come, first served.
Parent Grad Information
Grad Parent Meeting: Thursday, February 10th @ 6:00 p.m.
February Grad Photo Sessions & Retakes
Lifetouch is offering Grad Photo Sessions & Retake Sessions throughout the month of February. 
The sessions will be in the Lifetouch Studio at 1021 3rd Ave South.
Please go to the lifetouch website to book your session:
Schedule Appointment with Lifetouch Canada (as.me)
Convocation 2022
Date: June 28, 2022 (A.M.)
Location: Enmax Centre
More detailed information coming soon.
Grad Hoodies
Graduation Photo Information - now open for booking!
You can now book your grad photos!
LCI booking dates: November 22-26 and November 29-December 3
Location: at LCI
Please come to your appointment 5 minutes prior to booking time
Follow this link to make your booking:  GRAD PHOTOS
COVID 19 Information:
If you are experiencing any Covid-19 symptoms as outlined by Alberta Health Services please do not come to your appointment.  We will be happy to reschedule you
Please arrive 5 minutes prior to your scheduled time.  We will not be able to accommodate you if you are late. 
Only the graduate is allowed in the photography area
At this time we can not include pets, friends or family members in the photo sitting
We will only be accepting debit and credit for payment of sitting fees
The use of props provided by lifetouch is voluntary.  We have implemented safety protocols for sanitizing props or they will be one time use items.  Graduates may bring appropriate props to use in their sitting
We will not have shirts and ties for graduates to use and our staff are not able to tie ties so please ensure you can tie your own or have it pre-tied
Any questions?  Please call 403-327-2658
My Pass
Students should be visiting "My Pass" to ensure they are ready for Grad.
My Pass allows students to:
View and print diploma exam result statements.
Order transcripts.
View progress towards a credential (diploma or certificate).
View student personal information.
View and print detailed academic reports (DAR).
Order additional copies of a credential.
Register for a diploma exam.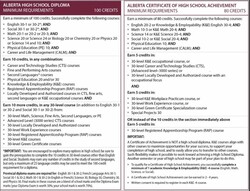 Most students go beyond the minimum diploma or certificate requirements listed below because they want to take advantage of the many choices available in high school or to meet post-secondary entrance requirements. If you are undecided about the path you might take after high school, you are like many students. You will discover your talents and interests while working toward your Diploma or Certificate of High School Achievement.