Counselling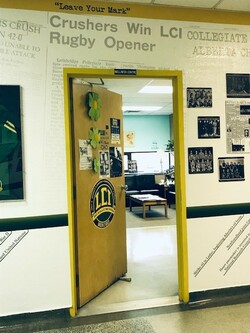 The Counselling office is located in the "E" wing, directly west of the large gym. The office is open from 7:45 a.m. to 3:30 p.m. each school day. 
The LCI Counselling Department offers services related to the following areas:
Personal Counselling -Counselors are available to discuss personal problems, particularly as they relate to progress in school. The intention of in school counselling is short term support while transitioning into longer term community supports.
Educational Counselling -Assistance can be provided for the planning of high school programs and for the selection of post secondary institutions. Information related to scholarships and other financial assistance can also be supplied. 
Career Counselling - The role of the Career Practitioner is to provide students with information and direction in the area of career development, and depending on their interests and abilities, bring an awareness to the different post-secondary pathways that are available to them.
Teacher Counsellor- Provides promotion of general wellness. Identifies need for universal, Targeted and Individual programming for families, staff and students. Helps to identify the needs of the student population and pair students with appropriate counselling supports within the Wellness Centre. Provides personal, educational, and social emotional supports to individual students as well as in classroom supports.
FSLC (Family School Liaison Counsellor) – Provides some of the more intensive supports for students as they transition into community based resources. Counselling is focussed on building personal, familial and community based resilience through referrals developed with students and their parents. Students are encouraged to develop personal coping strategies that include that family as the primary pillar of support.
Student Support: Provides support to students focusing on problem solving and building strategies to strengthen social, emotional, and behavioural skills. Focuses on our grade 9 students as well as Knowledge and Employability students.
Career Practitioner- Assists students in their career development through resume building, job search, navigating post-secondary options, and connecting to career exploration events and opportunities in the community. See "Career Corner" page for more information.
FNMI (First Nations Metis Inuit) Liaison – Provides support to FNMI students and families. Liaises and provides connection between First Nations students, families, and communities.
Counselling Intern (University Masters Student) - Hello, my name is Kelsey. I am a third year Master level student from the University of Athabasca, and I am completing my counselling practicum at LCI to earn my Master of Counselling Psychology degree. I am passionate about ensuring every student I meet with has a safe place to express their feelings and access support. My work background is rooted in Addiction and Mental Health, and I can provide counselling support in the following areas: self-esteem, grief and loss, mental illness (anxiety & depression), relationships, stress management, trauma, and substance use. Feel free to connect with me through my email – kelsey.ronne@lethsd.ab.ca or at (403) 328-9606 ext. 24108 (school line). 
If you are in need of immediate counselling supports/assistance, please consider contacting the following:
Kids Help Phone (1-800-668-6868) or the
Distress Line of South Western Alberta (403-327-7905 or 1-888-787-2880).
If you are looking for a live chat option, you can follow this link to access supports:
https://kidshelpphone.ca/live-chat/
If you are looking for a texting option, you can text CONNECT to 686868
If this is an emergency, please call 911 immediately.
Additional Resources:
https://youtu.be/KIswi_4yRaE (mental health vs mental illness video)
https://youtu.be/1Evwgu369Jw (empathy vs sympathy)
https://jack.org/Resources/Mental-Health-101 (mental health 101)