Counselling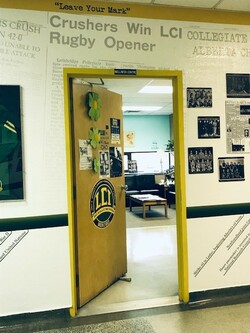 The Counselling office is located in the "E" wing, directly west of the large gym. The office is open from 7:45 a.m. to 3:30 p.m. each school day. 
The LCI Counselling Department offers services related to the following areas:
Personal Counselling -Counselors are available to discuss personal problems, particularly as they relate to progress in school. The intention of in school counselling is short term support while transitioning into longer term community supports.
Educational Counselling -Assistance can be provided for the planning of high school programs and for the selection of post secondary institutions. Information related to scholarships and other financial assistance can also be supplied. 
Career Counselling - Provide students with information and direction in the area of career development, and depending on their interests and abilities, bring an awareness to the different post-secondary pathways that are available to them.
Teacher Counsellor- Provides promotion of general wellness. Identifies need for universal, Targeted and Individual programming for families, staff and students. Helps to identify the needs of the student population and pair students with appropriate counselling supports within the Wellness Centre. Provides personal, educational, and social emotional supports to individual students as well as in classroom supports.
FSLC (Family School Liaison Counsellor) – Provides some of the more intensive supports for students as they transition into community based resources. Counselling is focussed on building personal, familial and community based resilience through referrals developed with students and their parents. Students are encouraged to develop personal coping strategies that include that family as the primary pillar of support.
FNMI (First Nations Metis Inuit) Liaison – Provides support to FNMI students and families. Liaises and provides connection between First Nations students, families, and communities.
If you are in need of immediate counselling supports/assistance, please consider contacting the following:
Kids Help Phone (1-800-668-6868) or the
Distress Line of South Western Alberta (403-327-7905 or 1-888-787-2880).
If you are looking for a live chat option, you can follow this link to access supports:
https://kidshelpphone.ca/live-chat/
If you are looking for a texting option, you can text CONNECT to 686868
If this is an emergency, please call 911 immediately.
Additional Resources:
https://youtu.be/KIswi_4yRaE (mental health vs mental illness video)
https://youtu.be/1Evwgu369Jw (empathy vs sympathy)
https://jack.org/Resources/Mental-Health-101 (mental health 101)
Lethbridge Food Bank
Covid-19 Food Bank Update
PUBLIC SERVICE ANNOUNCEMENT
Local Agencies Pooling Resources to best serve the community during outbreak
As our community continues to battle the effects of the recent Covid-19 outbreak,
Lethbridge Food Bank,
Interfaith Food Bank and
MyCityCare
will be banding together to coordinate emergency food services for our most vulnerable citizens. This partnership will coordinate services, maximize resources and provide the most effective and efficient support to our community as we navigate this crisis.
If any students are interested in helping out by donating your time you can contact volunteer@lethbridgefoodbank.ca
FREE Community Counselling
FREE Community Counselling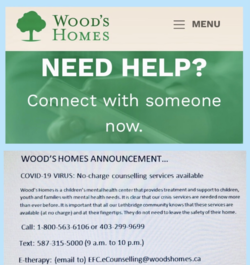 Woods Homes 
CALL: 1-800-563-6106 or 403-299-9699
TEXT: 587-315-5000 (9 am to 10 pm)
E-Therapy: email: EFC.eCounselling@woodshomes.ca
COMMUNITY LINKS THROUGH HELPSEEKER.ORG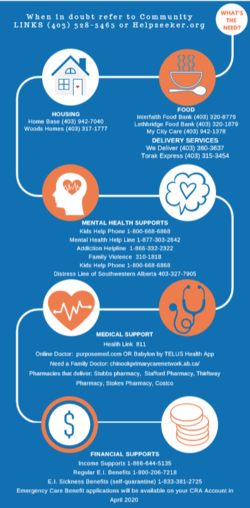 Amazing Free on-line service updated every 24 hours.
All the help and access to resources you may need at the click of a button :) 
Psychological Coping
This Fact Sheet comes from the Psychologists Association of Alberta
Coping during a Pandemic
Stay Informed- (Not Overloaded): Minimize your exposure to stories about the pandemic
Stay Healthy: A healthy lifestyle is your best defense against disease 
Manage Your Own Stress: Limit your media consumption
Avoid getting into debates about the pandemic: as they can escalate conflict
Stress and Anxiety about the future is not productive: instead work on issues you care about
Remember life goes on: People have always survived difficult life circumstances. Avoid catastrophizing and maintain a balanced perspective.
Build your resilience: We can learn to adapt well to stress, get more tools in your toolkit
Keep connected:Maintain social networks via social media and telephone
Keep things in perspective: Don't expect the worst